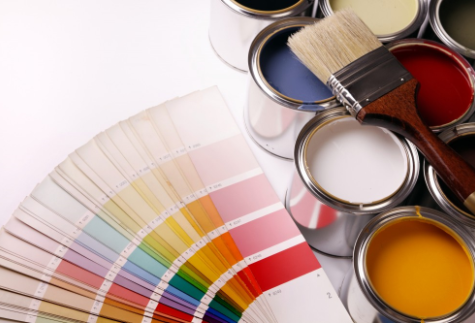 Gaina Color
In order to maximize the effect of thermal barrier coating or reflective insulation coating, it doesn't have dark colors. Because, dark colors absorb more heat than is reflected.
The color tones of thermal reflective pigments are limited in color. Latex paint has over 1000 colors, however it's easily degraded by ultraviolet light. Fading color is a natural phenomenon, therefore degradation by direct sunlight or diffused light is an important element in evaluation. Currently, about 45 different types of thermal reflective coatings are available in Japan. Gaina's competitors have a combined average of approximately 8 colors available for sale.
Gaina provides as much color as possible, because visual aesthetics is very important for our homes or buildings. That is why it's surprising that Gaina has not only 52 basic colors, but more than 260 colors can be mixed to approximate colors from the JPMA color guide.
Pigment has characteristics to absorb or reflect light. Our eyes catch the reflected light of pigment and recognize their color. Gaina's color pigments won't diminish the performance of the ceramic in the thermal reflective coating. However, as reflective insulation that reflects sunlight for better performance, a lighter color is recommended. What we have noticed in using this product, Gaina tends to be lighter in color than the sample provided by the manufacturing company. So if you need an exact color match, it's better to consult sales representative in person.
Color sample image [52 basic colors] Compatible with more than 200 colors
N-95

N-85

N-80

N-70

N-60

N-50

05-75A

99-70L

09-80F

07-70F

09-60D

09-60L

15-70A

17-80H

17-70L

17-60H

19-75D

19-70D

19-65D

22-90C

22-85B

22-85H

22-85C

17-80F

25-92B

25-85C

25-85F

25-80B

25-70A

25-70B

25-60B

32-90D

29-80H

29-75H

39-80H

45-85B

42-80D

42-70D

42-50L

45-60D

62-80H

75-90D

65-80D

65-80H

69-70L

72-80D

72-70D

72-70L

85-85B

85-80D

95-90D

95-70D
* The color samples above are different from actual paint colors and color sample books in color tone and coloring. Be sure to use the actual color sample book when selecting colors.
Gainer finish variation Beautiful finish with various finishes
roller

roller

roller

Brush

Spraying

Spraying

Iron

Iron
We support various painting processes such as brushing, roller, spraying and ironing.